AiR 2023 / Michał Salwiński (PL) & col.
Published: Šárka Zahálková, 4. 3. 2023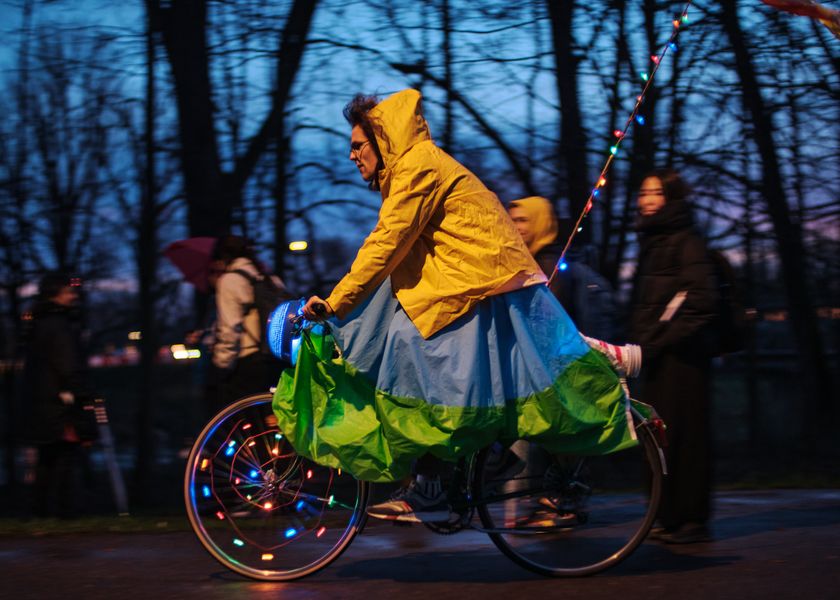 The residency program of the eight-member international collective, which was supported by the ART-IN-RES / Nová síť.  
March 6–26, 2023
In March 2023, Michał Salwiński and his colleagues explored Pardubice and worked in its context on their art project called Dreamy Walking.
Their journey-structure performance is an original format inspired by audio-walks and street performances. The performance invites spectators to the city's lullaby. The performance-walk takes us back to memories of following our parents on the walks, and to imagine looking at the world with child eyes where we feel a deep connection with what's around us. In the performance, the audience is guided by voice storytelling and a play of city-lights.
The audience walks and immerses in the dreamy journey. Participants walk through the city, on an atmospheric evening walk with city lamps, cars passing by, and beautiful city landscape. The performance becomes a way of understanding a way of being a man as the companion in the journey, as someone who invites to be there together, share a way of looking at the world, holding a hand on a walk - a way of perception of beauty of the world and sensibility of being together. The walk offers to re-imagine ones perception of the city. The performance dives into the city-organism, taking as a part of the artistic process.
The performance will be officially premiered during Prague Quadrienalle in June 2023, and we would like to bring it back to Pardubice in Autumn 2023.
Participating artists:
Michał Salwiński / Poland – writer, performer, director
Kirstine Nielsen / Denmark – performer, sound designer
Carolina Arandia / Argentina – dramaturgy
Andres Silva / Columbia – sound designer
Susana Botera Santos / Columbia – costume designer
Sai Psyn / Japan – performer
Mara Ingea / Lebanon – set designer, light designer
Aljoša Lovrić Krapež / Slovenia – dramaturgy
---
The project was made possible thanks to the kind support of the association Nová síť, with the financial support of the National Renewal Plan and the statutory town of Pardubice. Thank you!