AiR 2022 / Eszter Koncz (HU)
Published: Šárka Zahálková, 14. 11. 2022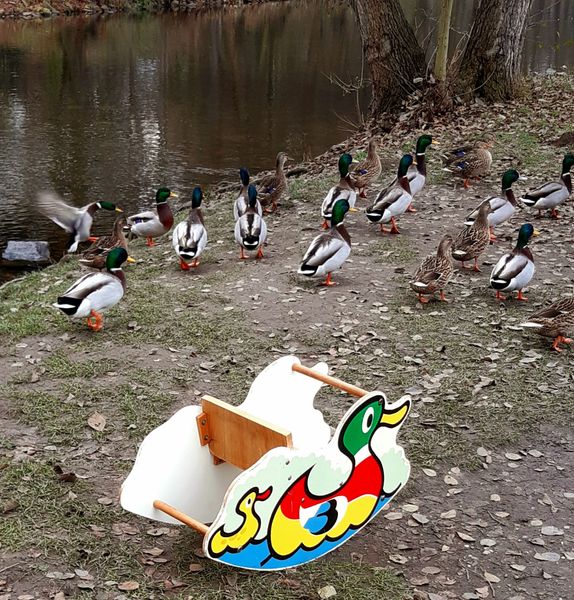 The November resident of the OFFCITY AiR programme was Eszter Koncz. Eszter studied visual arts and scenography, currently she attends an international study program – Directing of Devised and Object Theater at the Prague DAMU. Eszter works in the fields of intermedia, installation and performance.
"In November 2022 I spent two beautiful slow birdwatching weeks in the actual, the virtual, and the natural spaces of Pardubice and sometimes in all of them at the same time. For example, I found a rocking duck, an old wooden toy, waiting for me in the middle of the city. (day01) I followed the Chrudimka river until it becomes the Elbe, (day03) walked in the castle moat, that used to be under the rivers a few hundred years ago (day04), and followed a peacock on google maps. (day 05) I watched birdhouses through a binocular from the castle tower (day 08) and I watched as the houses for the Christmas market arrive at the main square (day 10) I built&wove houses for nonexistent birds from materials I found around the studio while it snowed outside. (day 07) I added a new, semi-fictional site to google maps. (day 12) I draw a detailed map of the birdhouses around the castle (day 06) and I draw maps of the ducks' movements on the river. (day 13) As a result of this research, I am planning to create a digital intervention in the virtual public space of google maps: to implant a fictional layer to the documented reality of the city. "
Eszter Koncz is a young hungarian artist. She is interested in landscapes, cities, and maps, and their inhabitants: humans but mostly nonhumans whose intra-actions form these spaces.
---
The OFFCITY AiR 2022 residency program is being realized with the kind financial support of the statutory city of Pardubice. Thank you!