AiR online / Claudio Beorchia (IT)
Published: Šárka Zahálková, 7. 8. 2020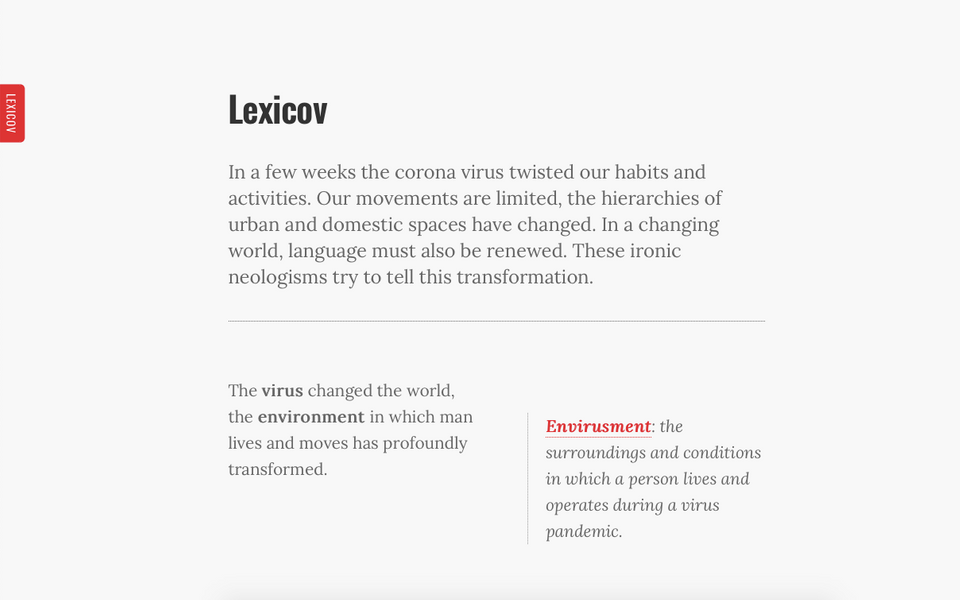 Claudio Beorchia (IT)
"The world has changed suddenly: in a few weeks our habits and activities have been twisted. Our movements are limited, the hierarchies of urban and domestic spaces have changed. Places that were important are now no longer, other spaces have suddenly become essential. 
In a changing world, language must also be renewed. So I started to create a glossary in which, through ironic neologisms, I try to tell these changes."
Claudio Beorchia (* 1979) lives and works near Venice, in Italy. He studied Design and Visual Arts at Iuav University in Venice and at the Fine Arts Academy "Brera" in Milan. He holds a Ph.D. in Design Sciences - Department of Design and Planning of Complex Environments, at Doctorate School of Iuav University in Venice. His artworks have been exhibited in numerous occasions in Italy and abroad (Argentina, Armenia, Belgium, China, Croatia, France, Greece, Japan, Morocco, Palestine, Russia, Slovakia, Slovenia, Spain, Uruguay). He has been artist in residence in Italy, Bulgaria, China, Denmark, Finland, Germany, Japan, Netherlands and United States.
---
PROJECT
Needless to say, it has been a strange period. My Offcity residency could be ironically defined as a square residency, a residency2. In the weeks when I was working on the project, I was not at home, but I was involved in another residency program, in the Netherlands. The Dutch residency program had officially ended a few weeks earlier, but the covid lockdown and the consequent blocking of flights had not allowed me to going back to Italy. I only managed to return home in the late May, when the project for Officity was definitely well underway. In the hardest and darkest moments of the virus emergency, like many people, I followed the media too much: I felt the pragmatic need to keep myself informed about the Dutch situation, since I was living there; I could not give up knowing what was going on in Italy, my country, the first in Europe to be affected by the virus; I regularly followed the situation in Germany, since, according to my artistic plans for the year, I should have spent the months of May and June in Berlin; I followed, more generally, the international situation, with the illusion of understanding a little better how the pandemic was developing. In that indigestion of articles, comments, news reports, chatter, etc. I felt a linguistic limit. It was as if media did not have the instruments to tell what was going on. That limit pushed me to reflect on the language and the need to find new and proper words to describe something so unseen and disruptive.