V 14 / OFFCITY AiR happening
Published: Šárka Zahálková, 31. 7. 2019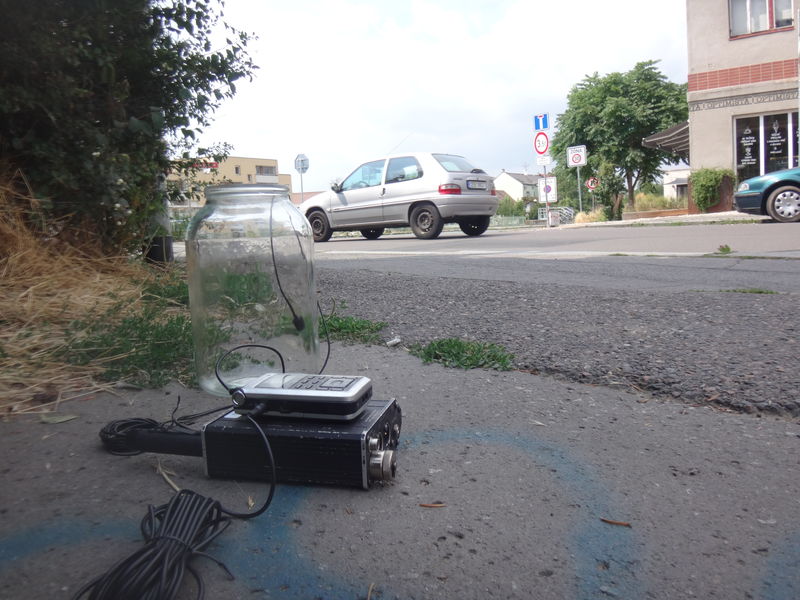 Final happening of OFFCITY AiR
Thursday August 1, 2019 at 4pm and 6pm
Automatické mlýny & GAMPA, Příhrádek 5, Pardubice
16:00, 16:30, 17:00 | Automatické mlýny
Simon Whetham: OFFstreet Listening | FB event | booking via: sarka@offcity.cz
Simon Whetham will present the sounds of everyday activity in the street, but alter the way we hear these sounds in visible and tangible ways to become more abstract or musical, using familiar objects and various microphones. The performance will take place outside, but under cover to protect the audience from rain or sun. The participants will listen to the piece through headphones that allow the ambient sounds to be heard in combination with the sounds presented, causing them to question what is being presented and what is happening around them in order to provoke interest in sounds they normally are unable to hear or simply dismiss as unimportant.
The performance will be presented 3 times during the afternoon, (16:00, 16:30, 17:00) for a maximum number of 8 participants. Because of the limit on audience members, registration is necessary to secure a place: sarka@offcity.cz
Virág Bogyó (HU): Playgrounds
Virág will present her project where she works with the topic of child and a city. She organized a workshop for young families in Pardubice, and she has started to research former play sculptures in Polabiny. She will shortly present the state of her approach and other activities.
Laure Catugier (FR/DE): Architecture is Frozen Music II, Exercising Modernity
Laure questions functionalism in modernist architecture in her video work. In "Architecture is Frozen Music II", she collected images from diverse buildings of Pardubice that seem deserted. In a second film called "Exercising Modernity", she is performing with derision in loop around a small white cube.
Simon Whetham / sound performance
Sound performance will activate qualities of the architecture of the space in subtle and immersive ways.
20:00 | Automatické mlýny
A series of special probes of current situations of several urban locations. With increasing distance on the vertical axis, the perceived detail disappears for a broader understanding of the horizontal whole.
Marek Sivák: standardized – tailored
Response to the excessive use of standardized equipment and also to the need of "tuning up" particular public spaces in Pardubice including the communist era housing estates. Using standardized blocks of a "wooden construction kit" in human scale we will create atypical composition for each chosen place. That will help to clarify the boundaries or focal point of the space, complement large urban scale with smaller size and also offer new forms of utilization for various generations. The subject of our examination will be the usage of the installation itself and also the process of its creation and setting up. Important part is a dialog with the local inhabitants concerning their said and unsaid needs and the changes of the places in time. These prototypes are a part of a development of the construction kit which will be used in the next months at various places in Pardubice. During the project preparation in June and July 2019 we also undertook a study of public spaces in Polabiny and Dubina housing estates, including several tens of interviews with local inhabitants.